T-FIT And T-Tubes Join Forces
ZOTEFOAMS AND UFP TECHNOLOGIES JOIN FORCES TO BOOST
HIGH-PERFORMANCE INSULATION OFFERING ACROSS NORTH AMERICA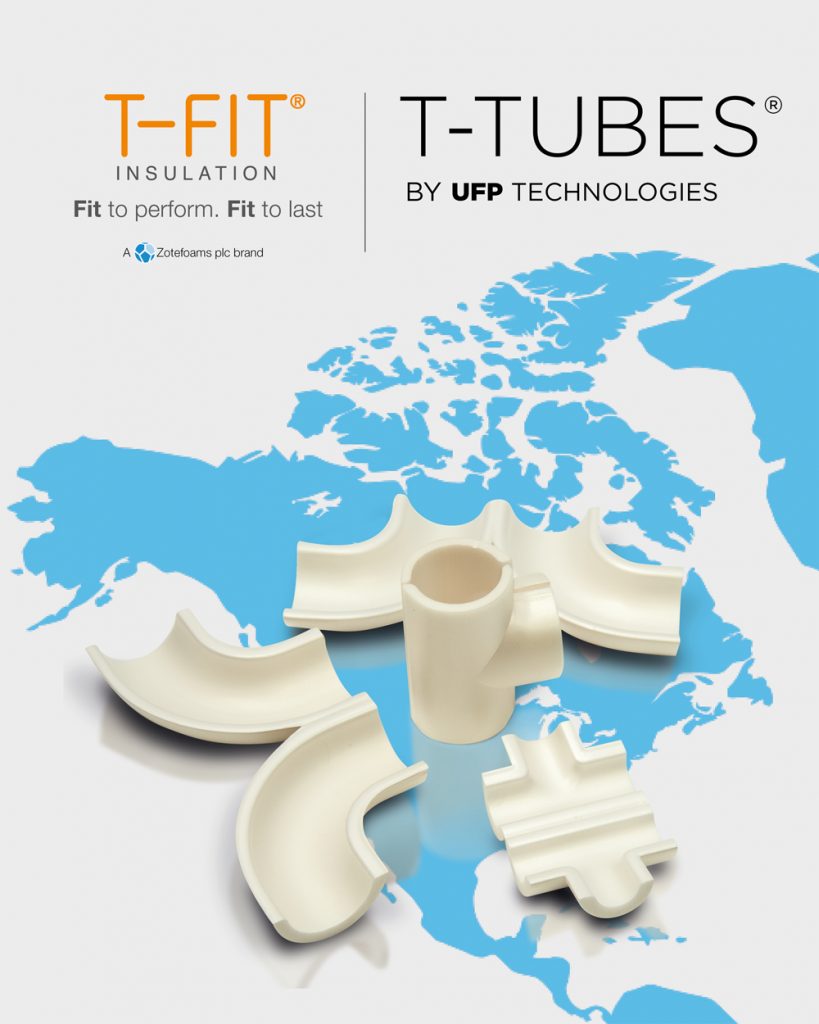 For more information please contact:
Zotefoams plc and UFP Technologies Inc., owners respectively of the T-FIT® and T-Tubes® high-performance industrial insulation brands, announce a new joint manufacturing and marketing agreement. The collaboration will give greater access for customers in North America to T-FIT's portfolio of advanced insulation solutions, produced from materials in Zotefoams' ZOTEK®high-performance foams range.
Effective immediately, UFP's T-Tubes business – based in Newburyport, MA, USA – will become part of the T-FIT range and be offered to the market alongside a wider range of unique insulation products.
UFP will manufacture this advanced insulation solution and Zotefoams' T-FIT business, headquartered in Croydon, London, UK, will assume all commercial responsibilities.
The T-FIT range will now include T-FIT Clean, T-FIT Hygiene and T-FIT Process off-the-shelf modular solutions, available across North America for the first time, alongside the established T-Tubes range of custom-designed insulation for medical and pharmaceutical applications. Designed specifically for high-demand production environments, T-FIT Hygiene and T-FIT Process will open up the same positive benefits to a much wider industry customer-base.
The agreement will result in a major expansion of the range of products available to North American manufacturers requiring insulation for cleanrooms, aseptic areas and high-temperature processing environments.
Unique manufacturing process
T-FIT Clean and T-Tubes products are made exclusively from ZOTEK F42HT LS high-performance closed cell PVDF foam and are the only product that meets or exceeds all relevant global standards for cleanroom insulation, including FM4910 Cleanroom Materials Flammability Test Protocol. T-FIT Hygiene, designed for aseptic areas, is produced from ZOTEK F43HT PVDF foam, while the ZOTEK N nylon foam used for T-FIT Process enables the insulation solution to withstand the rigors of high-temperature processes.
ZOTEK materials are produced via Zotefoams' unique three stage manufacturing process, which uses pure nitrogen as a foaming medium to produce fine, completely closed cell, crosslinked foams with significant advantages over traditional insulation manufactured from melamine fiber or foam. ZOTEK materials are dust- and fiber-free with near-zero VOC emissions, are inherently hydrophobic and highly resistant to bacteria and mold growth. In addition, unlike standard open cell insulation, T-FIT does not shed particulates when cut, while a comparatively lower profile makes T-FIT the preferred choice for insulating complex pipework runs in congested environments.
James Bridges, Director of the High-Performance Products Business Unit at Zotefoams, says, "The North American market offers enormous potential for T-FIT. This agreement leverages the synergies of T-Tubes and T-FIT, giving access for a wider range of manufacturers to the most comprehensive range of high-performance insulation solutions for rigorous production environments. Existing customers of T-Tubes will see no change in the product range they are familiar with, but they can now additionally reap the same benefits plant-wide with off-the-shelf configurations of T-FIT Clean, T-FIT Hygiene and T-FIT Process. Going forward, the new enterprise has the combined expertise to develop new solutions to meet the new challenges facing our customers."
Jim Henebry, UFP's VP of Business Development added, "We are excited to expand upon our almost 50-year relationship with Zotefoams through this sales and manufacturing partnership. UFP and Zotefoams have collaborated over the years to establish T-Tubes in North America and T-FIT globally. Now, with the addition of T-FIT, customers in North America have access to the broadest range of high-performance insulation available in the industry".